We only had 18 days to visit Japan and I was a little overwhelmed by all the options. What should we see during this first visit, how much time did we need in Tokyo and Kyoto, did we have to book everything in advance? In the end we decided on a very full itinerary. Here's what we did, and what we could have done differently.
Day 1/2: flight to Tokyo
When descending into Tokyo, we were greeted by a brilliantly clear view of Mount Fuji. Welcome to Japan! At the airport we exchanged our Japan Rail Passes (more on them later) and bought a Suica card. This is a rechargeable metro card, which is very convenient. We spend our first day in Shibuya, marvelling at the busy crossroads and the crazy outfits the girls were wearing. We also went up Tokyo Tower, to get an overview of the immense city that is Tokyo.
Our hotel: during our first trip we stayed at the very nice Citadines Shinjuku Hotel, a conveniently located hotel in a quiet part of Shinjuku. Lots of eating options are around. During our second time in Tokyo we stayed at the cheaper, but also nice Nishi Shinjuku Hotel MyStays.
Day 3 and 4: falling in love with in Tokyo
No amount of time is enough to do Tokyo justice. I could have spent 18 days there and I still would have only scratched the surface. We had two full days to experience the main sights: temple Senso-ji, the shops in Ginza, watching the fashion victims in Harajuku, visiting Meiji shrine, spending a Sunday afternoon in Yoyogi Park and getting greedy for gadgets in Akihabara. I loved every second of it!
Day 5: fresh fish and many temples
We started the day very early to visit Tsukiji Market, the biggest fish market in the world. It was very interesting to watch all the sales men preparing their fish and making sales. But the highlight was the tuna sashimi rice bowl I ate somewhere in the streets surrounding the market. The freshest, tastiest sashimi ever!
After this visit we took the train to Kamakura, a small temple town an hour from Tokyo. I liked Kamakura a lot: the shopping street is fun and the temples dotting the town are lovely. And don't forget to visit the big Buddha! A very nice trip, although it rained like crazy the whole time.
Day 6: taking in the temples of Nikko
We activated our Japan Rail Pass and took the train to Nikko, a temple city in Nikko National Park. This complex consists of several spread-out temples, all very different from each other. My favourite (and also the most famous) was Toshogu, a lavishly decorated shrine. Nikko is located in a national park, so the landscapes are lovely too. A perfect day trip from Tokyo.
What we could have done differently: we could have taken a day trip to Mount Fuji. But we were afraid clouds would obscure the mountain, so we decided to spend our limited time in and around Tokyo differently.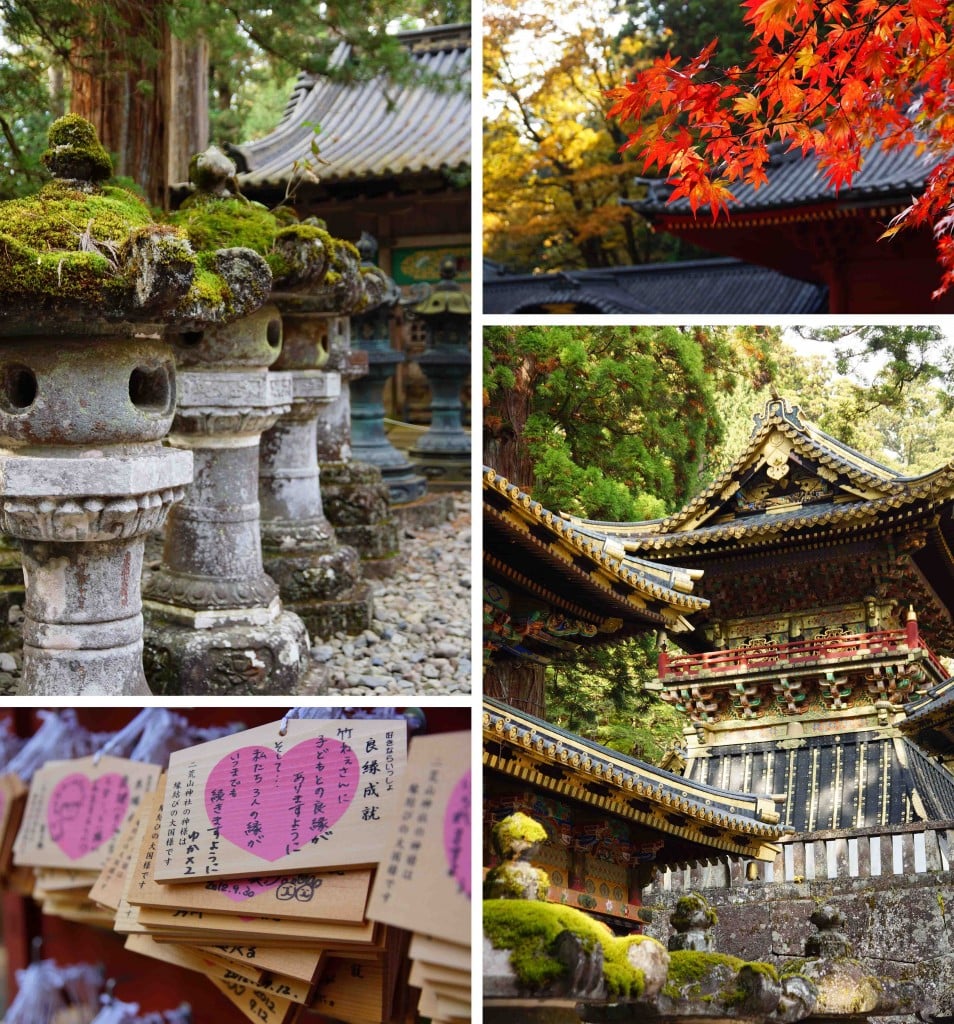 Day 7: heading for Takayama in the Japanse Alps
We left Tokyo and travelled to Takayama in the Japanese Alps. Takayama was a lot bigger than we expected, but it's still a lovely town with gorgeous surroundings. The old part of town is beautifully persevered and full of small traditional shops.
Our hotel: we stayed at Oyado Yamakyu, a fantastic traditional ryokan. The onsen is great and I still dream about the food. Great place to stay!
Day 8: taking many tunnels to Shirakawago and Gokayama
We rented a car to drive to Shirakawago en Gokayama, traditional villages in the Japanese Alps, which are famous for their traditional farmhouses. Shirakawago is pretty touristy (only Japanese tourists), but Gokayama is a bit more off the beaten track. We liked both villages a lot and the scenery was very much worth it as well. The only problem were the tunnels: endless tunnels cover the road from Takayama to Shirakawago, so you hardly see anything at all.
Day 9: running around in Kanazawa
We liked Kanazawa. This friendly city is famous for the most beautiful garden of Japan, Kenrokuen, and the old Geisha district is also worth a visit.  But travelling from Takayama to Kanazawa takes time, so we were left with only three hours to see the city. We had already booked our hotel in Kyoto for the next night. That meant running around like a crazy person to catch the highlights of Kanazawa. Not very relaxing.
What we could have done differently: skipping Kanazawa and spending an extra night in Kyoto. That would have been more relaxed in two ways: less running around in Kanazawa and less running around in Kyoto. If you have the time, spend two nights in Kanazawa.
Our hotel: Guesthouse Namaste. A regular Japanese house converted into a guesthouse, with a friendly and very helpful owner.

Day 10, 11, 12 and 13: temple hopping in Kyoto
There's almost too much to see in Kyoto. How can you decide which temple or shrine to visit, if there's 2000 to choose from? We tried to see as much as we could. We loved Kinkaku-ji, Kiyomizu, Eikan-do and of course the Bamboo Grove in Arashiyama. Fushimi Inari Shire, the one with the thousand of red torii gates, was our favorite. But there's more in Kyoto than just temples: don't forget to visit the old geisha district of Gion and the fabulous Nishiki food market.
Our hotel: Citadines Karasumu Gojo, of the same branch as our hotel in Tokyo and just as great. Last year we went back to Kyoto and we stayed in the cheaper, but also great MyStays Kyoto Shijo.
Day 14: joining the messengers of the Gods in Nara (day trip from Kyoto)
Another temple town, but very different from the others we saw. In Nara, the deer are called 'the messengers of the Gods' and they rule the streets. In temple Todai-ji you'll find an impressive fifteen meters high Buddha statue, but that's only one of the many highlights Nara has to offer. From the hilly setting to the many stone lanterns dotting the paths, Nara is a magical place.
Day 15: to Koyasan
Yes, I know. Another temple town. But Koyasan definitely stands out from the crowd. The town is located on top of a mountain and that makes getting there an exciting exercise. You'll take various trains from Kyoto to get here, and a very steep cable car for the last part.  Not for the faint-hearted! I found Koyasan wonderful for two reasons: Okunoin cemetery and our overnight stay at the temple Eko-in. The cemetery consists of over 200.000 tombstones, it's the biggest in Japan and a famous pilgrimage spot. Very impressive!
Koyasan was the only destination we couldn't reach with our JR Pass. You'll have to buy additional train tickets. Ask the Kyoto Tourist Information Center at Kyoto Station how to get to Koyasan. They'll provide the information and tickets you need.
Our hotel: we stayed at temple Eko-in, which I can definitely recommend.
Day 16: to Hiroshima
We had an afternoon in Hiroshima and that was enough to see the Peace Memorial Park and the Memorial Museum. It made a huge impression on us, and it was strange to walk around Hiroshima knowing what happened there. You can hardly imagine that this modern city was once completely destroyed.
Our hotel: Hotel Sunroute. Can't really recommend it, but it was fine for one night.
What we could have done differently: in retrospect I would have visited Hiroshima as a day trip from Osaka. We skipped Osaka, but I think it would have been a great stop. Next time!
Day 17: temples on an island: going to Miyajima
A short train ride and a ferry trip from Hiroshima is the island of Miyajima, famous for its big red torii gate. It's a hilly island with lots of temples, a nice shopping street and many deer. We loved it, especially because the fall foliage was in full swing. The red, yellow and orange leaves framing the temples were fantastic and truly added to the sights. During the day, Miyajima is full of Japanese tourists. But at the end of the day the day-trippers go home and the island is virtually empty. That makes it worth it to spend the night there.
Our hotel: ryokan Ryoso Kawaguchi, the most comfortable and beautiful hotel of our trip.
Day 18: travelling back to Tokyo
It takes about five hours to travel back to Tokyo from Miyajima. We flew out on the early morning of day 19, so we spent our last night at a hotel next to airport Haneda. Due to the departure time of our flight we couldn't use public transport to go to the airport and a taxi is just too expensive. Make sure you book your airport hotel on time, because airport rooms fill up quickly.
The essentials of travel in Japan
Travelling in Japan is much easier than it might seem. I already wrote in

this post

why I found travelling in Japan extremely comfortable. Language is not really a problem, although don't expect the Japanese to speak English. But since they're very willing to help, and the signage in most public transport stations is in English, you should be fine.
No matter where you go or what your plans are: try to stay in a traditional ryokan for at least one night. A ryokan gives you the quintessential Japan experience. You sleep on a futon on the floor, bath in a hot onsen and have the best food of your trip.
Book ahead if you're travelling in cherry blossom season or in fall, when the fall foliage is at its most colourful. We were in Japan in November and there wasn't a single hotel room available in Kyoto and surroundings. Luckily we booked ahead.
Don't book a tour to Japan! Not only is it more fun to explore Japan on your own, it's also much, much cheaper to book your own hotels and transport.
Do you need more information about travel, places, sightseeing and itineraries? The site www.japan-guide.com is a brilliant source of information.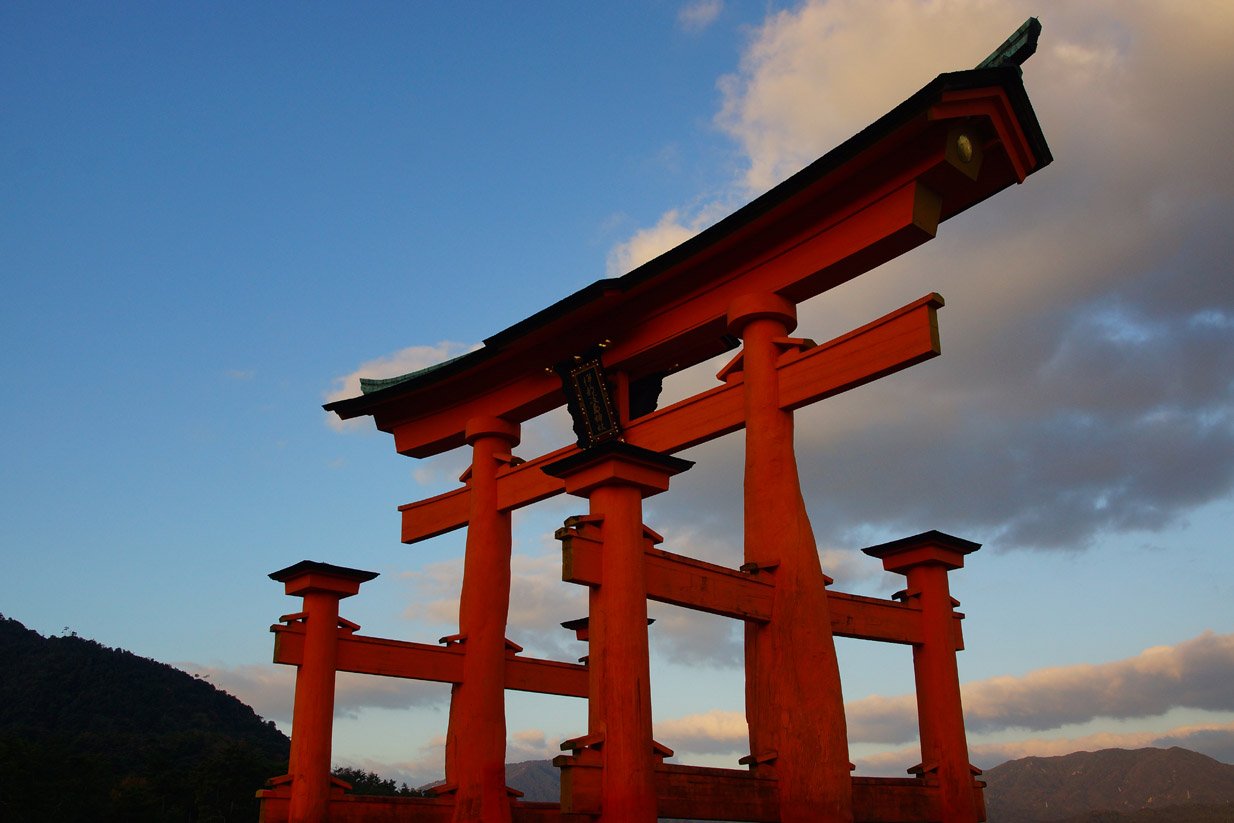 Japan train travel
The Japan Rail Pass is a great option if you want to cover some distance during your trip. You can reach most places with this pass, although it's only valid on JR-lines. If you want to visit a place that can't be reached by JR, you'll need to buy a ticket with another rail company. This is how the Japan Rail Pass works:
You need to buy the pass before you enter Japan. It's not for sale in Japan.
You choose one of the three passes for unlimited train travel with JR: for 7, 14 or 21 days. You get a voucher, which you'll need to exchange for the proper pass when you're in Japan.
The pass is valid for 7, 14 or 21 uninterrupted days, so choose carefully when you want to use it for the first time!
When you arrive in Japan, you exchange your voucher. On Narita Airport is a convenient JR Office. When you exchange your voucher, you'll have to decide on which day you'll first use the pass. From that date on, your pass is valid.
You can reserve your train tickets in advance if you want. That could be handy, especially since you can change the dates for free without any hassle.
If you want to plan your train travels, use www.hyperdia.com. We printed out all our connections, which made it easy to reserve our train tickets and to find the right train on the right platform. The Japan Rail Pass is not valid on Nozomi and Mizuho trains, so click 'search details' before entering your destinations in the Hyperdia timetable. Remove the check mark for both trains, so you'll get the route you can take with your Japan Rail Pass. Enjoy Japan!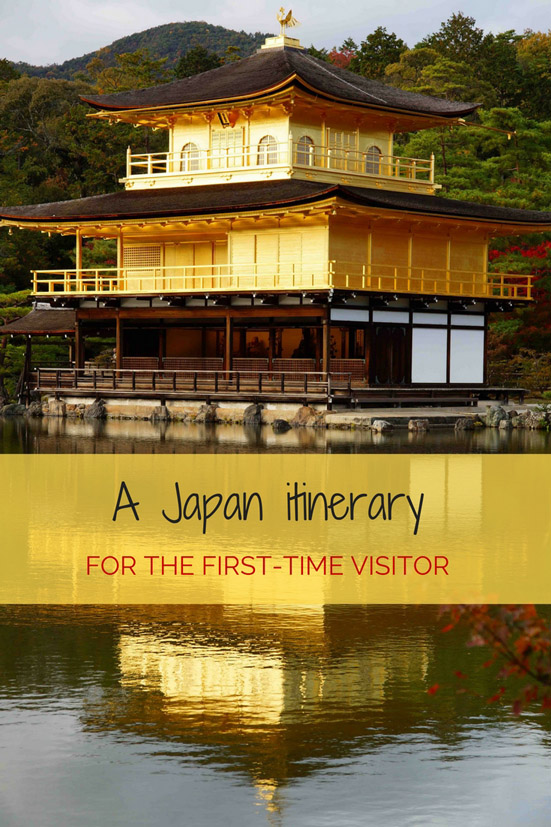 *This article contains a few affiliate links to hotels. If you decide to make a booking through this link, I'll receive a small percentage of the total price.